Why you should create a Strategic Marketing Plan for your Business
Let us ask you: does your marketing team review and define your company's marketing strategy annually? If you don't, then this is a good time to start.

What is a strategic marketing plan?
A strategic marketing plan is one of the most powerful tools at the service of any company, regardless of its size and sector of activity. A strategic plan is a reference document used by companies to define their marketing strategies for a certain period of time, typically one year.
In fact, this is a key document as it determines the direction of the marketing teams and efforts to achieve the established business goals. A strategic plan exists precisely to provide visibility on what the company must do, in a realistic and tangible way, to achieve those goals (whether they are market penetration, growth or any other).
To accomplish this, and depending on the strategic plan structure adopted by each company, which can be variable, generally a strategic marketing plan concentrates information about the company (mission and vision, current marketing initiatives), business goals, market study and competition analysis, buyer personas identification, description of proposed tactics and deliverables and the available budget.

With all this information condensed into one document, it will be easier for companies to control the activities carried out, to understand what works and what doesn't and to measure the success of the strategy carried out.
Structure of a strategic marketing plan
As we said above, there is no universal strategic marketing plan framework. In fact, there are several templates that your company can follow to create this document. Still, there are some basic sections that should be included in your strategic plan.
1 - Defining objectives and KPIs

This should be the first exercise to be done when creating a strategic marketing plan, as all proposed marketing actions will obviously serve to achieve certain business goals.
These objectives should be detailed and should be SMART (an acronym for specific, measurable, attainable, realistic and time-bounded). For example, a SMART objective is not "attract more qualified leads", but "generate 200 MQLs in the next 12 months".
2 - Identify your buyer personas
A buyer persona is a semi-fictional representation of what your ideal customer profile is. There should be an understanding, not just for marketing teams, but for the whole organization from a broader point of view, about who the company's buyer personas are. And this includes demographic information (such as age, profession, geographic location, gender, etc) but also psychographic information (such as lifestyle, interests and preferences, goals, beliefs, etc).
Knowing who your buyer personas are is critical to the development of any marketing strategy, and the most effective strategies are those that take these buyer characteristics into account and are built upon that knowledge.
3 - Market/competitor analysis

An important part of a marketing strategy is knowing who you are competing against. And that involves knowing well which other players are in your company's target market.
Therefore, your strategic plan should include a section dedicated to the study of this market, identifying the main competitors, their positioning, the business segments for which they compete and other aspects that should be highlighted (organic authority, presence on social networks or other relevant channels, among others).

4 - Description of marketing initiatives
This is where you should list, in detail, the marketing actions that the company proposes to develop in order to achieve the objectives and KPIs initially established.

This section should detail: the tactics to be developed (paid media campaigns, media campaigns, social network management, SEO, email marketing, events and/or webinars, public relations, among other possible tactics); the content to be produced to support these tactics (blog posts, videos, press releases, eBooks, infographics, etc.) and the channels in which this content will be disseminated (blog, website, social networks, landing pages, YouTube, Facebook, LinkedIn, among others).

All this definition of tactics, contents and channels should, obviously, be based on the buyer personas identified, as you should try to impact them through useful and relevant contents for them and in channels used by them.

Regarding contents, and in parallel with the strategic plan, it can be very useful to create an editorial calendar that identifies all the contents that are already produced and those that will need to be produced, who will do it and when.

5 - Timetable for actions
Since your strategic plan will apply to a one-year period, it is important that it also has a forecast of when each of the initiatives will be developed to ensure a correct allocation of the resources involved.
One note: don't forget to include in this schedule recurring actions to analyse and monitor the results of initiatives. Regularly measuring the success of tactics and campaigns is a crucial factor so that you can, over time, understand what is working or, on the contrary, what is not performing well and needs to be improved.

Benefits of having a strategic marketing plan
There are numerous advantages associated with the existence of a strategic plan that directs all the marketing efforts of a company. Get to know the main ones:

• It gives focus and visibility on what needs to be done to achieve business goals.
• It allows you to plan and manage resources more efficiently, whether we are talking about human resources, materials, equipment, platforms required or, of course, the budget envolved.

• It ensures consistency in that it is a solid basis for the structured and articulated development of the proposed actions.
• It increases transparency, within all the teams involved, about what the business goals are and what role and responsibilities each employee has in achieving them (also enhancing coordination and communication between different departments).
• It encourages managers and business heads to reflect on their strategic business goals in a more systematic way.
• It promotes more frequent and closer monitoring of the results of the activities developed, which is a crucial factor for their success.
• It minimizes possible risks that may result from adverse situations, as prior planning helps teams to better deal with uncertainty.
The specificities of a strategic Inbound Marketing plan
At YouLead we give primacy to the inbound marketing methodology and therefore it underpins the creation of the strategic marketing plans we develop for our clients.

These strategic plans aim to provide for all the marketing actions that will allow you to attract, convert and follow customers throughout their buying journey through relevant content and personalized experiences.

That is why the definition of the actions proposed in a strategic inbound marketing plan follow precisely the flow of inbound methodology: tactics for attracting visitors, converting those visitors into leads, nurturing those leads, closing the qualified leads into customers and, finally, engaging and building loyalty among actual customers.
Since inbound is a methodology that aims to attract the interest of your target audience to your business (it is based on permission, not interruption), an inbound strategic plan ends up having a sharper focus on organic attraction tactics, lead nurturing and content marketing as the main driver for the effectiveness of all actions, whether they are top, middle or end of funnel.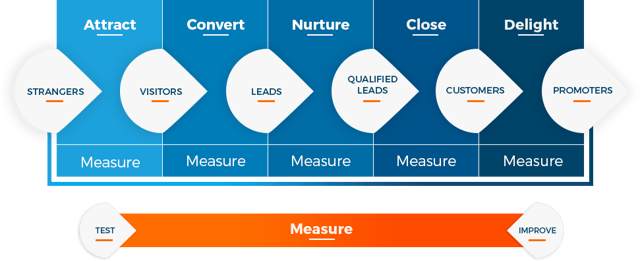 The purpose of a strategic marketing plan is to map out all the actions that the company intends to take in order to achieve its business objectives in a given period of time. And, although the structure of each plan may vary according to the reality of each business, what seems indisputable is its absolutely strategic value for conducting the marketing activities of companies.
The last quarter of the year is the ideal time to develop an annual strategic plan that prepares the following year's marketing activities. So, if you are interested in planning your company's year 2022 with the valuable help of an inbound marketing strategic plan, we will be happy to help you on your way!