Landing Pages: 10 Best Practices to implement in 2021
A landing page is a key asset in any digital marketing campaign. A landing page is a website page of that has a very specific and clear goal: converting visitors into leads.
Regardless of its content or format (its visual appearance), the purpose of any landing page is to convert traffic into leads. This happens in the sense that these pages generally offer some useful content or resource in which people are interested.
These contents/resources can go from an eBook, an infographic, a video, a case study, a simulator, or a free trial. And what is expected is that to obtain the offer, visitors insert in exchange for some personal data relevant to the company. In this way, it is possible to start nurturing these leads and help them to advance in their buying journey.
Why should you use landing pages?

A landing page must be a highly conversion-oriented page. This means that it should not contain any elements of distraction and constitute a possible obstacle to the performance of the desired action by the visitors.
Without menus, without too much information, without several CTAs (call-to-action buttons), and without several navigation options, a landing page becomes more effective in capturing the visitor's attention and leading them to conversion (by filling in a form).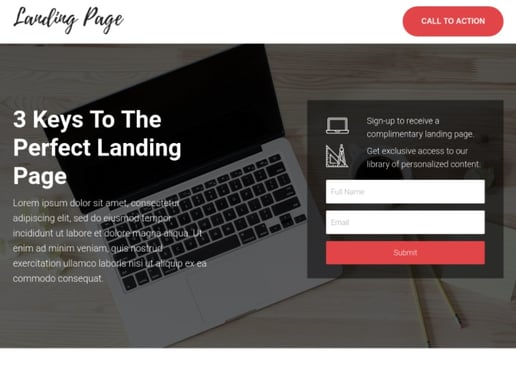 Some stats about the advantages of using landing pages:

The average conversion rate for a landing page (for all industries) is 9.7% (Unbounce);


Companies that build from 10 to 15 landing pages see a 55% increase in lead generation (HubSpot);


48% of marketers build a new landing page for each new campaign (Marketing Experiments);


Registration forms on landing pages have a conversion rate of 23% (Omnisend).
Taking this into account, the use of relevant and optimized landing pages for conversion in your paid media campaigns, in the promotion of your events, or other specific marketing campaigns seems to be a fundamental condition for your success.
Therefore, we show you some recommendations and good practices that you should follow when building these pages.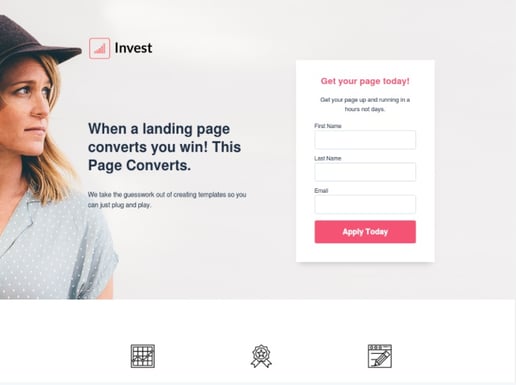 1. Create a landing page for each buyer persona
Segmentation must be the starting point of any marketing action and knowing who your buyer personas are is a premise for the development of any content or offer. And landing pages are no exception.
If each buyer persona has a specific need or concern, this must necessarily materialize on landing pages with different styles, content, and offers (which meet those same needs).
2. Focus on a single conversion goal
Having several offers on the same landing page can cause too much noise, distract visitors and prevent them from doing the desired action (thereby reducing the conversion rate).
Just as the content of a landing page must focus on a single persona or audience, it must also promote a single offer, to be more persuasive and effective.
3. Include all the essentials for a landing page
As they are pages built to capture leads, some fundamental elements must integrate a landing page: a clear and precise title; a brief description of the offer that demonstrates its value; an image; and, most importantly to request visitors data, a form, and a CTA.
4. Use a persuasive copy
Keep in mind that when someone arrives at a landing page, they do not expect to read typical marketing and sales messages. Instead, expect to read something about the offer or content featured on the page.
In this sense, avoid buzzwords like "sign up" or "submit" and focus instead on providing useful information that will allow visitors to make a quick decision. Adopt a conversational, engaging, and, above all, personalized speech.
5. Highlight the benefits of the offer, not your product/service
Your landing page should show, in a short paragraph or by topic, the benefits of the offer you promote.
Try to convey how the content or resource that will be made available will help to solve a problem or fill a need with your target audience.
6. Remove page navigation
Unlike other pages on a website, where visitors are expected to navigate from one to the other, on a landing page the goal is for people to stay.
The existence of menus or links can cause noise and contribute to people leaving the page before converting. Navigation should therefore be eliminated.
7. Request only the information needed
At this point, you have to weigh the balance and find a compromise between asking too much information (and taking the risk of visitors not wanting to fill all fields) and asking too little information (generating low qualified leads of whom you know little information).
Each case is different and there is no universal answer to the number of fields that must be included in a landing page form. We recommend that you do tests and understand what works best for your business.
8. Build responsive landing pages
This should already be taken for granted, considering that more and more people access the internet through their smartphones, but there are still many website pages that are not optimized for mobile devices.
Your landing pages must adapt to the size of any screen, keeping the content legible and the position of visual elements, forms, and buttons.
9. Display a thank you page
A thank you page can be an effective way of precisely thanking the person for converting to the associated landing page.
These pages allow you to introduce some personalization (since you have just collected personal data about the visitor) and also introduce a new conversion point so that, eventually, the lead will advance on your shopping journey.
10. Test regularly
To improve your conversion rates more and more, it is necessary to frequently analyze the performance of your landing pages. This may mean doing A/B testings or adaptive testings, an existing feature in HubSpot that allows you to test up to five variations of the same page.
The analysis of the results of these tests will enable you to build landing pages that are increasingly relevant and effective.


Consider these recommendations and start the year 2021 to create landing pages that contribute to the generation of more and better leads for your business.
At YouLead we can help you with your global lead generation strategy. Do not hesitate to contact us.