HubSpot launches CMS Hub Starter for CRM-powered websites
Last August HubSpot, the global leader in CRM tools, announced the launch of its CMS Hub Starter which, to date, was only available in Professional and Enterprise versions of the software.
This innovation provides companies with the ability to develop websites integrated with their CRM, to be able to leverage a wide range of historical data and behavioral information to create more personalized and relevant experiences and touch-points.
What is HubSpot CMS?
CMS Hub is HubSpot's Content Management System that allows organizations to easily create and manage their websites from their HubSpot. And all this in an integrated way with the company's CRM, with several marketing tools (such as chatbots, forms, blogs, landing pages, emails, workflows, etc) and also powerful reporting tools.
The CMS was designed with marketers in mind, which means that it's not just developers who can build and manage the content of a given website. Easy of use is one of the premises of HubSpot's CMS and marketers can easily create and edit pages, customize the site and optimize it.
Some features of HubSpot CMS
Security:

the HubSpot CMS has basic security features such as SSL certificate, firewall and globally hosted CDN.
Pre-built themes: you can use templates from existing websites and customize them to your company's branding.
SEO recommendations: as you create pages and content, you have access to various SEO recommendations to optimize them for search engines.

Drag and drop editor:

edit and update your webpages in a simple and intuitive way, without the need of developers.
Integration with CRM: with the HubSpot CMS your website becomes the foundation of your business' growth, in so far as all the digital behavior of your visitors, leads and customers is tracked and stored in your CRM, which can serve as the basis for the development of increasingly effective and relevant communications and interactions.
A/B and adaptive testings: with HubSpot CMS you can not only carry out the already common A/B tests, but also the innovative adaptive testings, which allow you to test up to 5 variations of the same page and use machine learning to choose and display the winning version automatically.
Mobile responsive websites: get mobile optimised versions of your pages easily and instantly, without having to design or build them from scratch.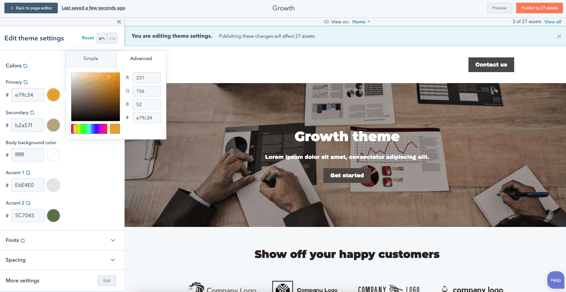 Are you excited about this release? So are we!

HubSpot's CMS provides an excellent opportunity for businesses like yours to leverage your CRM data to create more personalized and powerful customer experiences through well-built, attractive and innovative websites.
If you want to know more about CMS Hub do not hesitate to contact us. As a HubSpot partner in Portugal we will be glad to help you!
Content originally published in September 2021.