How to do a Keyword Research for your SEO Strategy
Keywords are the foundation of SEO. Keywords are terms that people use to search on the internet, for example on search engines like Google.
The goal of any company is that when people search for their business area - their products or services - they can find their site in the first Google results.
However, for this to happen, companies need to know, with some clarity, which are the keywords that potential customers are using when they perform a search whose need can be filled by a solution from their company. It is in this context that keyword studies are extremely important.
What are keyword studies?
Keyword research is a process of finding and understanding the search terms people use in search engines when looking for some product, some service, some content or some solution to a specific need or concern.
This analysis allows businesses to have important data about the words and phrases that potential customers may be using in their searches, data that is fundamental to an SEO and digital marketing strategy, from a more global point of view.
Carrying out a keyword study is the only way to know what people are searching for and avoid creating irrelevant content that no one is looking for.
But then, what are the steps you should take to do a keyword study that supports your SEO strategy?
1 - Make a list of relevant topics related to your business
Typically, the first set of topics or phrases that come to mind will be the most strategic as they will be closely related to your products, services or solutions. These topics will be the most important and the ones you want your site to be ranked for (displayed in Google's results pages).
Also, put yourself in the shoes of your buyer personas and try to find the topics most likely to be searched by them (and, obviously, for which you would like your site to be found).
For example, in our case, some important topics are: inbound marketing, digital transformation, digital marketing, marketing automation, HubSpot, etc...
2 - Find the keywords that integrate these topics
Although the topic "digital marketing" is relevant to YouLead, it may not necessarily be a strategic keyword, as it is too generic and the search may have diverse and ambiguous intentions (which do not match with the content of our site or the solutions we provide).
Therefore, it is important to find long tail keywords that fit the topics defined in the previous step and which are most likely to be the expressions used in searches by your target audience.
For the example of the topic "digital marketing", some keywords could be: digital marketing agencies, digital marketing strategies, digital marketing tools, etc...
The idea is to have just an initial list of strategic keywords related to a topic. Most naturally, it will change in the following steps.

3 - Always consider search intent
As we saw earlier, the intention with which people search is a crucial aspect to take into consideration in your keyword research. A keyword can have several meanings and, although one of them may be related to your business, others may not.
Let's take a more basic example than marketing automation. Imagine that your company operates in the area of human resources consulting: perhaps the keyword "human resources" may seem relevant and the most immediate in your keyword research. However, many searches on human resources may actually be looking for "human resources degrees" or "human resources job opportunities" and not "human resources consulting" or "human resources management companies", for example.

Therefore, it becomes easy to see the importance of considering the intentions of research. In practical terms, your pages and their contents should try to respond to the problem or need that the person's research has revealed.
4 - Search for related terms
Most naturally, even with your experience, you cannot remember all the possible keywords that people could potentially use to search on a particular topic.
A good help might be the related searches section that Google usually displays at the bottom of the results page when we perform a particular search. These related keywords can generate ideas for possible relevant keywords to consider.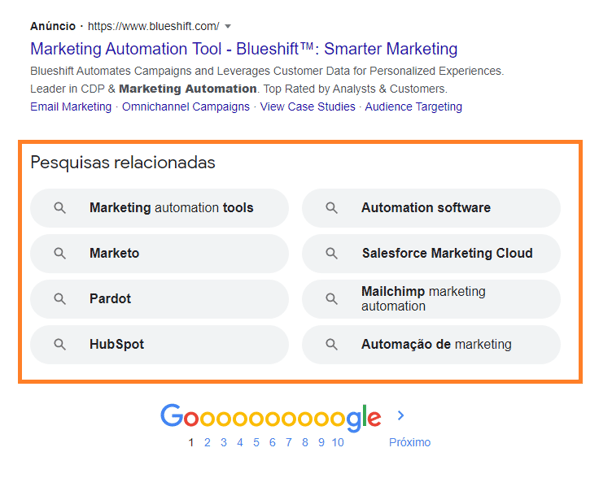 5 - Use keyword research platforms
There are several SEO tools that can help you get more ideas of strategic keywords for your business. More than that, they can provide you with important information such as the level of popularity of the keywords (monthly search volumes), the current position of your site for those keywords, the difficulty in ranking or the organic CTR of the keywords.
Some of these tools are MozPro, SEMrush or Ahrefs, for example. But Google also offers a keyword research tool, which is perhaps the best known and can be used for free: Google Keyword Planner.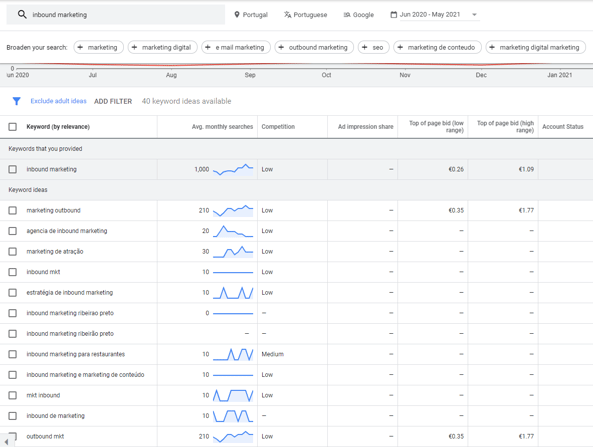 As a complement, you can also install a Google Chrome extension called Keywords Everywhere, which also displays a list of keywords related to the search made.
With the help of these platforms, and the data they provide, you are already in a position to know which are the most strategic keywords for your business and which should be optimized in your SEO strategy.
These keywords must result from a balance between relevance, authority and volume. In other words, keywords with reasonable search volumes that your site can compete for, taking into consideration the existing competition but also your ability to produce valuable and quality content that meets those same search terms.
Finally, and having completed all these phases, you are now in a position to start optimizing your website (and other digital channels) and its contents for the keywords identified as the most strategic.
And don't forget: SEO efforts never lead to immediate results. So, start doing your study of keywords to contribute to the authority of your business in search engines in a medium-long term.
Do you need help developing a keyword research? Do not hesitate to contact us.
Content originally posted on July 2021.