HubSpot named leader in B2B Marketing Automation Platforms
HubSpot, a CRM tool for businesses, has been ranked by Gartner in the "leaders" quadrant when it comes to marketing automation platforms for the B2B segment.

Gartner is a North American consulting firm that analyzes the positioning of a particular company within a specific market in what it calls the Magic Quadrant. This model is made up of four quadrants: the niche players, the visionaries, the challengers and the leaders.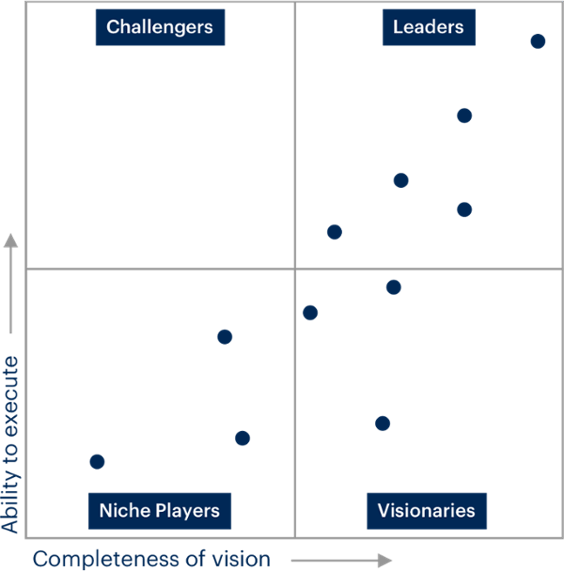 With particular regard to marketing automation platforms for the B2B segment, Gartner takes into consideration in its analysis the providers that support lead generation, lead management, tools such as lead scoring and the development of lead nurturing tactics.
It was in this market that HubSpot was considered, in 2021, a leading platform, alongside tools such as Salesforce, Adobe, Oracle and Creatio.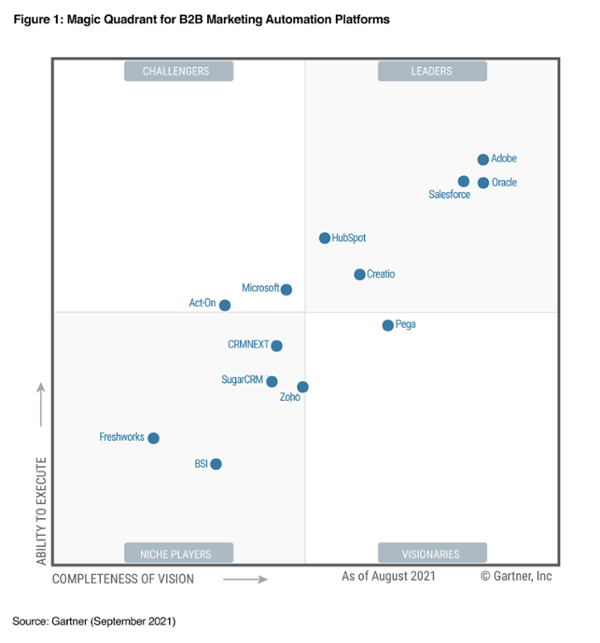 About HubSpot
HubSpot is a CRM platform consisting of marketing, sales, customer service and CMS modules. It therefore allows you to centrally manage and develop marketing tactics (email marketing, landing pages, blogs, paid media campaigns, etc.); commercial actions (prospecting leads and commercial follow-up through emails, telephone calls, meetings, tasks, etc.); customer service tools such as tickets or satisfaction questionnaires; and even the development of websites based on a simple and intuitive CMS.
It is a software that has, in recent years, become increasingly prevalent throughout the world. This year it even passed the barrier of 100 thousand clients with paid licenses of the platform.
HubSpot's strengths identified by Gartner
Usability
The easy use of the tool is pointed out as one of the main strengths, and is even considered one of the great differentiating elements compared to other competing platforms. The learning curve associated with the use of the different HubSpot modules is considered to be less sharp when compared to other software.
In addition, HubSpot has a very robust set of resources that make it easy to clarify questions at any time:
HubSpot Academy

: an online training platform with dozens of videos on many different marketing, sales, customer service and CMS topics, and how to use HubSpot in practice to leverage all tactics;

Knowledge Base

: an extensive online knowledge base, accessible by any user - or not - of the platform;

Community

: an organic network of HubSpot users in which they help each other when in doubt about the software.
Marketing tactics execution
HubSpot has demonstrated a very deep understanding of the marketing automation market, having a value proposition that is always ultimately based on ensuring a good customer experience.
HubSpot's marketing automation growth has allowed it to capture, in recent years, organizations with increasing business volumes, which see the tool as a facilitator for scalable growth.
Partner Ecosystem
The final strength identified by Gartner relates to HubSpot's partner ecosystem, in which there has been a clear investment by the company.
When we talk about partners, we are talking not only about marketing agencies - like YouLead - that help many companies with the implementation and subsequent use of the tool, but also technology partners that provide numerous integrations with the platform (payment providers, analytics tools, commercial tools, video tools, customer service tools, events and webinars, live chats, among many others).
At YouLead we strongly believe in the value of HubSpot and the role that this platform can have to boost the development of your business. If you want to know more, do not hesitate to contact us!
Content originally published in november 2021.