Distance Learning with HubSpot
Today, more than ever, many of our day-to-day activities (whether personal or professional) are performed in front of a computer, tablet or mobile phone.
This can certainly be the case with training. Whether we're talking about a course we decided to take to develop our knowledge or an internal training in our company, it's most likely that, in the current context, it happens remotly, using digital tools.

With this in mind, so that organizations can enhance their learning initiatives, HubSpot now offers a new application in its marketplace: HubLMS.
What is HubLMS?

The HubLMS (Learning Management System) is a theme built on the HubSpot CMS that will allow companies to set up a kind of an academy, an integrated tool of various resources in which they can share internal training or even external training offer that they make available to their customers.

It is a portal where people can access with a login and where they can view a set of resources such as videos, documents, presentations, training plans, surveys, etc.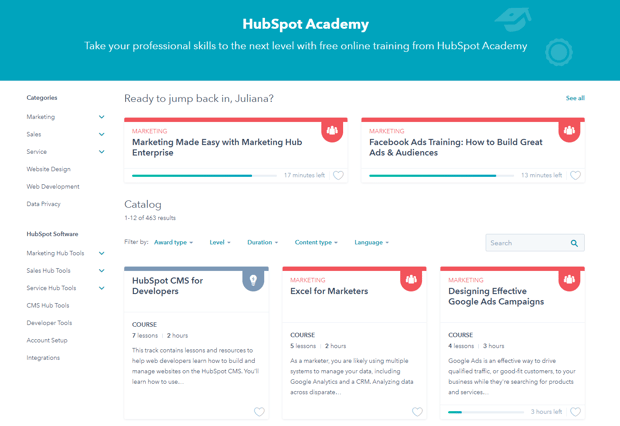 In which situations can HubLMS be useful?
There are two clear situations in which companies can benefit from using a learning management system like HubLMS.

Firstly, for internal learning. Ongoing employee training is an essential element for any organization, and centralizing all resources - from initial training for new employees to more specific and advanced training modules - can streamline and facilitate this whole process.

Secondly, for training companies. If your company provides training (either to other companies or to the final customer), it can be very useful to have an integrated platform with all your training offer and in which you can take advantage of features such as:
Certifications: each course can have the option to take a test at the end and, once the person submits the test, the evaluation of the course can automatically be associated with the respective contact within the HubSpot.


Permission levels per session: using smart lists on HubSpot it is possible to assign different levels of access to different courses or lessons.


Payment provider integration: it is possible to integrate HubSpot with Stripe to enable the checkout functionality for people to pay directly for the training they want to attend.


Integration with any video platform: HubLMS works natively with applications such as YouTube, Vimeo, Vidyard, or Wistia and automatically converts any video URL into embedded and responsive videos.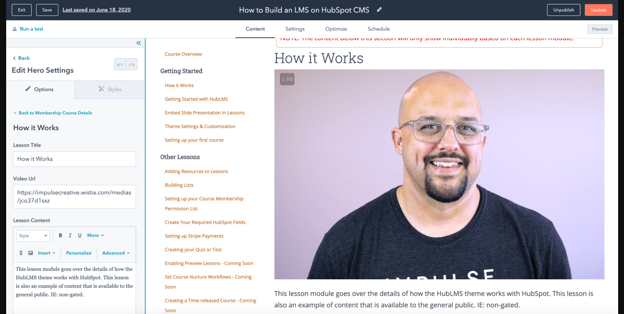 Advantages of using HubLMS
Does not require any computer development effort;


All data and information (from customers and trainings) are centralized in HubSpot;


It is possible to create automatisms such as reminders of the session times, collecting feedback, etc;


The number of courses pages is unlimited.
Do you think this HubSpot feature could be interesting to your company? HubLMS can be a useful and differentiating tool in several aspects of your business, from lead generation to customer acquisition and loyalty.

Want to know more? Do not hesitate to talk to us.